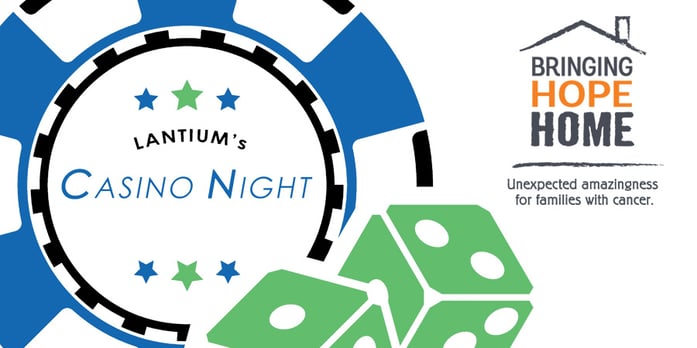 The third time truly was the charm! Because of the incredible support of our friends, families, clients and colleagues we were able to successfully raise over $15K for Bringing Hope Home (BHH) and local families battling cancer – Amazingness!
Thank you all for truly going "All IN" on Saturday, October 19th and making LANTIUM's 3rd Annual Casino Night such a fun and worthwhile event. We truly could not have done it without you and we are already looking forward to next year.
Over the last three year's, LANTIUM, along with our great sponsors, volunteers, donors, and attendees, have raised a combined $35K! Not only did we have a great time drinking, eating, playing table games, and winning great prizes, we helped an incredible organization assist local families with cancer through financial and emotional support.
This year's Casino Night was our biggest and best one yet, and we can't wait to deliver an even bigger check to BHH! Please check out some great picks of the event courtesy of Nate Weidner Productions HERE...(or click the images below for access to the event photo gallery)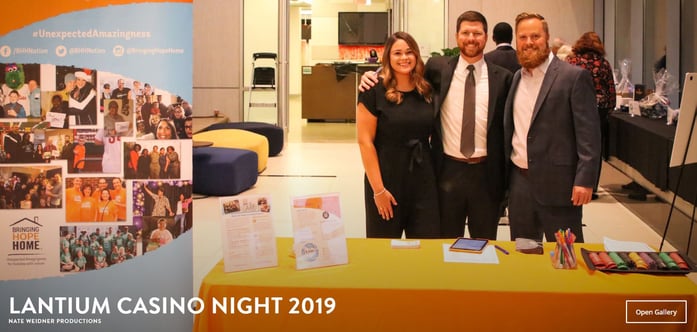 OK, so just in case you have not seen any of our previous posts, emails, invites and updates, Bringing Hope Home is a non-profit organization founded in 2008 offering emotional and financial support for families with cancer. The truth is, a cancer diagnosis affects the entire family.

Through the Light of Hope Family Grant Program, Bringing Hope Home directly pays household bills to ensure families are able to stay in their homes, with a roof over their heads, utilities on, phones working, and food on the table while they are dealing with cancer. Since their inception in 2008, BHH has supported over 4,517 local families with over $5.5 million dollars in assistance -- amazingness!

To learn more about this great cause, how and why they do this for families throughout the Greater Philadelphia area, please visit them online here: www.bringinghopehome.org


LANTIUM is so proud to have successfully raised money at our 3rd Annual Casino Night but could not have done it without our outstanding sponsors and all the great gifts and donations from local businesses…

A BIG thank you to our sponsors who helped us provide unexpected amazingness...
Tierpoint - Your business, our infrastructure - A premier data center service provider of cloud, colocation, managed services and disaster recovery.
Insperity - Powerful HR Solutions with exceptional follow-through.

Grundy Insurance - The premier provider of specialized insurance for collector vehicles, and everything important to you.
Health & Benefits Partners - Expert broker for individual, small group and Medicare insurance.

Mark Mehler of Coldwell Banker Preferred - A top real estate professional serving the communities of the Greater Philadelphia area.

Fitzpatrick Lentz & Bubba, P.C. - A premier law firm serving the Lehigh Valley and beyond providing a complete range of legal services to businesses and individuals.

Yeager Financial Services - Bookkeeping customized to fit your needs.

Premier Planning Group, Inc. - A financial advisory firm serving both individuals and business owners looking to reach their aspired financial goals.

Sam Moore of GMH Mortgage Services - Knowledge and expertise to guide you through the home financing process.

Layer 8 Security - A leading cybersecurity consulting, advisory, and technical services company.
Copy Products - An industry leading document management technology.
The Eastwood Company - Serving the DIY automotive market for nearly 40 years with unique tools and supplies for repair, restoration, and modification of cars, trucks, and motorcycles.

Mobility Empowered - Hire the best talent. Mobility Empowered is the simple end-to-end solution to relocate talent.
Special thank you to all the local businesses who supported us with prizes for our silent auction:
At the beginning of 2017, LANTIUM launched our LANTIUM CARES initiative to greatly increase our engagement in the community and with incredible causes to help the less fortunate. LANTIUM has sponsored many great events since, so happy to have gone "ALL IN" for an organization and a cause that helps those locally with something that affects so many of us.

It's not too late to donate – Please click the Third Time's a Charm icon below to support BHH and local families battling cancer today!