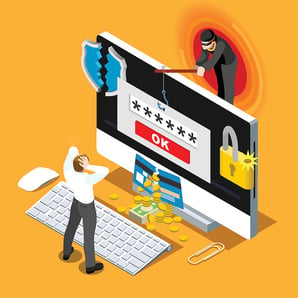 Self-healing BIOS, self-encrypting drives, and pre-boot authentication are just some of the leading-edge ways cybercriminals are illegally browsing, stealing, destroying or otherwise corrupting company and individuals' private information. As the daily news is chock full of headlines of the latest data breach, it is clear the cybersecurity industry is not going to see a decrease in budgetary spending anytime soon.

Although it seems our valuable information is constantly under attack and data is increasingly exposed to malicious hackers at home and abroad, we might just be our own worst enemy. By cutting corners, clicking suspicious links and downloading untrustworthy materials – do we bring these security issues on ourselves?


Regardless of who is to blame, there are several simple things you and your organization should be doing now to ensure you are not an easy target. Nothing is guaranteed you are 100% protected, but following these seven great habits can make reasonable data breach prevention a possibility -- keeping your private information secure and preventing becoming the next cybercrime victim:


1. Good, strong passwords
Not to sound like a broken record, and I'm sure you have heard this all before, but the truth can't be understated. A couple of tweaks can turn any easy password into a tough nut to crack. Try adding a few numeric characters and capitalization into favorite phrases. For example, try turning "happydays" into "H@ppyD@y2"

2. Two-Step Verification
Multi-step verification is fast becoming the new standard for security. With a simple tap on your phone or 'yes' on your email you can ensure it's really you. For more on this, please read our recent blog Two-Factor and Multi-Factor Authentication for Your IT Security to learn more.

3. Use a VPN
When in public places, always always use a Virtual Private Network (VPN). This allows you to connect to the Internet via a server run by a VPN provider – ensuring all incoming and outgoing data is encrypted.

4. Invest in a Backup Solution
A great way to avoid the consequences of a ransomware attack is to ensure your data is backed up. Ransomware has become the most prevalent and profitable forms of cybercrime today. It works by holding your valuable data for ransom. But if your files are securely backed up you can avoid making payment, neutralizing those evil hackers!

5. Think Before You Click
Malware requires users to open files or follow links. You should always think twice before clicking on anything online especially if the it looks suspicious. Remember, if it looks suspect it probably is!

6. Start Using a Password Manager
Not only are good strong passwords important, but it's also essential they are unique for each account. Using the same password, or a slight variation, for multiple accounts can leave all of you accounts vulnerable from a single breach. To keep all your passwords in one easily accessible place, try using a secure password manager (like LogMeOnce, Keeper or Enpass) to keep track and to help create unique passwords for each account.

7. Keep Software Up-to-Date
Cannot stress this last one enough (so I will say it again), KEEP YOUR SOFTWARE UP TO DATE! Software providers are consistently patching new bugs as they appear. These fixes can only help if you update your machines as often as possible.


What to Do if You're Infected:
Panic and worry can be overwhelming once you realize that your computer may have been compromised. However, it's not over for your computer and all of your files. If you believe you have been infected by a virus, trojan, worm, ransomware, or cryptolocker, there is still a chance to restore your computer to the state it was prior to infection, quickly, and without further damage or loss of productivity.

If you believe your computer may be infected, or if your organization has had IT security and performance issues in the past, Lantium can help! Our Critical Care support team is available for our clients 24x7x365. For more on this, please read our recent blog post 5 Symptoms of a Compromised Computer to learn more.


LANTIUM is comprised of Greater Philadelphia technology experts serving organizations of all industries. If you are interested in learning more about security audits, proactive monitoring, data backup, or how to make your business and its data more secure? Please schedule a free call with our experienced security consultants today!