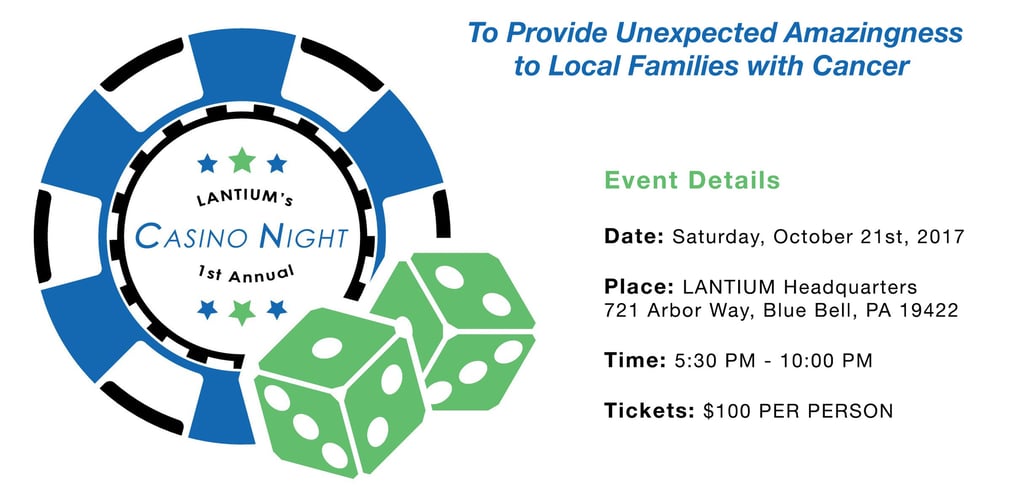 LANTIUM is proud to announce our 1st Annual Casino Night to raise money for Bringing Hope Home (BHH). We hope you will join us at our Blue Bell headquarters on Saturday, October 21st for a fun-filled event all while benefitting local families battling cancer.


This fun and special night will have a silent auction, professionally operated casino games, live DJ, food, drinks and so much more. All proceeds from the event will support BHH offering emotional and financial support for families with cancer.

AMAZINGNESS IN ACTION


A cancer diagnosis affects the entire family and BHH tries to bring "unexpected amazingness" to help win this battle. Through the Light of Hope Family Grant Program, BHH directly pays household bills to ensure families are able to stay in their homes, with a roof over their heads, utilities on, phones working, and food on the table while they are dealing with cancer.
Since their inception in 2008, BHH has supported over 4,000 local families with over $4.7 million dollars in assistance -- amazingness! To learn more about this great cause, how and why they do this for families throughout the Greater Philadelphia area, please visit them online here: www.bringinghopehome.org

Go "ALL IN" Be a Corporate Sponsor!

We are currently looking for event sponsors. Sponsoring is a fantastic way to gain exposure for your business while supporting a great cause – providing unexpected amazingness for families with cancer. We hope you and your organization can join us to go All IN!
Please click the button below to register, attend, support and/or sponsor this great event and organization and to help Bringing Hope Home continue to provide unexpected amazingness for families affected by cancer!