The Social Innovations Journal Awards recognize and honor the region's most passionate social innovators and entrepreneur leaders whose work and social impact is often missed. These individuals quietly make our region a more inclusive, equitable and thriving community of innovation and opportunity for all residents. Last week, Lantium had the privilege to sponsor, present and nominate at the Philadelphia Social Innovations Journal Awards -- a night to celebrate Philadelphia's regional visionaries and how they are changing the social landscape in Greater Philadelphia.
About The Social Innovations Journal

The Social Innovations Journal is a regionally focused, volunteer-driven online publication and knowledge lab dedicated to social innovators and entrepreneurs. It is the collaborative brainchild of two Philadelphia-grown social innovators and international Eisenhower Fellows – Nicholas Torres, Principal of Social Innovations Partners, and Tine Hansen-Turton, President and CEO of Woods, a leading advocacy and service organization for people with exceptional challenges, disabilities and complex needs.


Inaugural Awards
Lantium was so proud to be a part of the inaugural awards celebration and even presented an award to an individual in one of the 20 categories. A total of 300 nominations and over 3,500 Philadelphia residents participated in the voting process and the winners were nominated and selected by public voting. All the individuals/organizations have demonstrated a determination to solve social problems through bold and innovative methods.

The event took place on Thursday (1/26) at the Public Health Management Corporation (PHMC) Philadelphia headquarters and was hosted by Philadelphia-native Bob Beitcher, CEO of The Motion Picture and Television Fund – who has a long professional history of innovation dedicated to social impact. The region's most passionate and accomplished social innovators and entrepreneurs were honored including the work that they are doing to make Greater Philadelphia a more inclusive, equitable and thriving region of opportunity for all of its residents.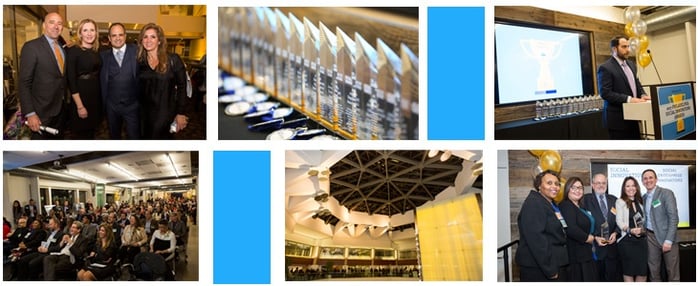 If you are interested in veiwing more pictures, you can access all photos HERE


One Extra Special Winner
Of the 20 winners, one in particular is extra special to us here at Lantium. Katy Sherratt, CEO of Back on My Feet (BoMF), who we nominated, was selected for the Innovations in Civic Engagement Award – given to an individual who is making a difference in the civic life of our communities and developing the combination of knowledge, skills, values and motivation to make that difference. We knew she was the perfect nominee in recognition of all the wonderful things her and her organization has accomplished right here in Philadelphia as well as around the country.


Who is BoMF?
BoMF works to revolutionize the way our society approaches homelessness through the power of running, community support and essential employment and housing resources – this great organization seeks to engage and empower individuals to achieve what once seemed impossible through the seemingly simple act of putting one foot in front of the other. The basis of rehabilitation is the belief that once you first restore confidence, strength and self-esteem, individuals are better equipped to tackle the road ahead and move toward jobs, homes and new lives.
Since launching in 2007, BoMF has served more than 6,000 individuals experiencing, or at risk of, homelessness helping more than 4,000 find employment and/or housing, and engaged more than 100,000 volunteers and supporters. To learn more and to get involved with this great organization please click HERE.


Get Involved
We hope you enjoyed reading this post as much as we enjoyed working with an event that brings notoriety to individuals and organizations who:
Promote a culture of bold thinking and problem solving

Increase awareness and build a culture for social enterprise and entrepreneurship

Assist award nominees and winners in telling their stories and strengthening their initiatives

Build active participation from the Social Innovations Journal readers Support a growing community of entrepreneurs and Innovators
We congratulate all of Greater Philadelphia's Top Social Innovators who are collectively leading the charge to solve society's toughest problems. If you are interested in supporting and providing more knowledge and tools to social innovators/entrepreneurs to succeed, here is a link to the virtual Social Innovations Lab/Institute: www.socialinnovationsinstitute.com/ where for $10 you can help ensure everyone who has an idea can obtain the tools and knowledge to make this region a better place.

Are you a nonprofit with a small budget but need BIG IT results?

Lantium provides the IT help nonprofit organizations need. If you are located in the Greater Philadelphia area, please contact us to learn more about our philadelphia nonprofit IT support packages today!