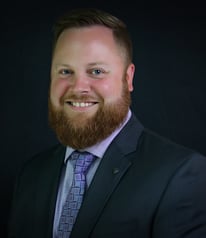 We are proud to announce the recent promotion of Joel Goins to Chief Executive Officer. Goins, who has served for the last two years as Managing Director, joined LANTIUM over 14 years ago as a college intern and worked his way up through every facet of the business. From support, implementation, account management on up to now as CEO, Mr. Goins is currently responsible for overseeing the company's entire US operations.
Jeff Middleton a founder and co-owner of LANTIUM with Jeffrey Lipson, has overseen operations for the majority of the firm's 20-year history. Due to his passion for cybersecurity paired with his entrepreneurial spirit, he started looking for someone with the right set of technology know-how, people skills, and business acumen to take over for him while pursuing new business opportunities in Asia. He did not have to look far.

"Joel is an expert at bridging the gap between business needs and the proper technology solutions that make end users more productive, data safer and increase overall organizational efficiency," said Middleton who will drastically reduce his already diminishing role in the company's daily operations.

"Joel's experience holding every position imaginable at LANTIUM has shown me, and the whole team, he has the right demeanor, intelligence and all-around ability to lead us and our clientele over the next 20 years."

-- Jeff Middleton, Founder/Co-Owner
Mr. Goins has been with LANTIUM since 2005 and has held numerous critical roles within the organization. He brings a very practical and refreshing perspective into how IT can benefit business and what organizations can do to improve both their bottom line and their employees' overall satisfaction with the technology provided to them. His experience managing clients in various industries has helped him to develop real-world examples and solutions that can save organizations from damages of reputation, credibility and financial loss, and trends businesses should consider to better position themselves for the future.